---
Diakonia in persons. Part 2
A paper presented by Margarita Nelyubova at the 13th International Church-Public and Academic Conference 'Pokrovsky Readings', which took place on November 9-11, 2017, in the city of Vladimir.
I would like to mention one more zealot of charity and good works, a gifted physician and scientist, public leader and reformer, tireless philanthropist, helper and intercessor for many deprived people - Dr. Haass. The bush telegraph christened him 'holy doctor' already in his lifetime. It is impossible to count how many people were helped and how many lives were saved by this man, who truly set by his whole life a lofty example of selflessness and love of humanity.
Friedrich Joseph Haass (1780-1853), a German medic, who was called Fyodor Petrovich in Moscow, came from a family of medics and chemists. At the age of 19, Haass already had a medical practicein Vienna and was a success as a remarkable ophthalmologist. He cured in particular the eyes of Prince Repnin, a Russian envoy to Vienna court. The prince invited the young doctor to Russia and suggested that he should settle down in Moscow. In the old capital city he had a large private practice treating members of the most famous and rich Moscow families, had a considerable income, a mansion in Kuznetsy Most, a huge estate at Tishkovo with hundreds of serfs and a weaving factory. His equipage with white houses was considered to be the best one in the city. In Moscow, Dr. Haass was not just successful but also famous.
Along with private practice, Haas was engaged in treating the poor in Preobrazhensky, Pavlovsky and Staroyekaterininsky Hospitals and was appointed the head physician in Pavlovsky Hospital.
During the war with Napoleon, Fyodor Petrovich became a military doctor. He helped the wounded near Smolensk, at the Borodino Field and in scorched Moscow. As a regimental doctor he, together with Russian troops, went as far as Paris. He managed to master Russian and spoke it almost without accent.
In 1825, Haass came to head the Chief Pharmaceutical and Medical Directorate of the city. Speaking in today's language, Haas became the Moscow head doctor.
During his chairmanship of the directorate, he had all the hospitals and clinics cleaned up, repaired chemist warehouses impacted by mouse and rats, got cats and included them in the staff of the chemist and medical office. Fyodor Haass introduced many changes at his own expense. Of course, there were many envious persons and cavilers among those who used to steal medicine, writing it off on mouse. Denunciations rained down.
Haas became member of the Moscow Committee for Prisons, in which he succeeded in introducing really incredible reforms.
In those years, the situation of prisoners was horrific: the inmates were kept all together without division into sexes and ages and consideration for the gravity of their crimes. They were not washed, almost not fed, and the outhouses were not cleaned. The facilities were not heated. There was dreadful insanitariness. Since the 17th century, lawbreakers began to be exiled to Siberia while Moscow became one of the holding centers.
At Haass'urgent request, the conditions in the holding prisons were considerably improved.
In those times (the 19th century 20s), convicts used to be chained to a long rod with handcuffs and fetters. It took them from three to six years to reach their penal settlement, with these years not included in the term of imprisonment. They walked from 15 to 25 kilometers a day. The rod was heavy in itself,yet 'strung' to it were from 20 to 40 people different in height and age, violently ill, missing an arm or a leg. Soldiers held the rod at both ends. Haass managed to have the rod replaced by a chain, which gave more freedom to prisoners' movements. A chain had five or six people with a similar bodily constitution fettered to it, so that it would be easier for them to walk together. At the same time, a chain was used to lead only old offenders and those who had committed grave crimes.
All the rest, as Dr. Haass insisted, were released from chain. He also insisted that children and old people should not walk but be transported by carts.
Handcuffs weighed some 16 kg and fetters about 6 kg. They would often rub wrists and anklesto the bone and got them frostbitten, and in summer they would cause rheumatism. Haass failed to achieve a complete abolition of shackles and began experimenting. He himself wore handcuffs for a month until he chose such a size that would make then less heavy - from 5 to 7 kg. On the inside, they were sheeted with calf or pig skin to prevent frostbites and blisters. These fetters were approved for use throughout Russia. They were called "Haass' fetters".
At his solicitation, a place was arranged on the exit from Moscow in which prisoners could sit down and bid farewell to their relatives. At the same place, compassionate Muscovites distributed food to deportees. The famous bakers Filippovs provided all the prisoners with sifted loaves baked specially on straw and with well-sifted flour to prevent them from staling for a long time.
Haass sometimes accompanied prisoners after they existed Moscow. He would talk with them walking along the Vladimirsky High Road. At the doctor's demand the high road was levelled and special sheds were arranged on roadsides to shelter prisoners during rains.
He spent much efforts and resources to ascertain the justice of verdicts and thanks to him not one hundred of wrongfully convicted people were absolved. To draw up the necessary documents he himself kept a whole staff of beadles. Haass is considered to be 'the first Russian human rights advocate'.
The most heinous and inveterate criminals treated him with exceptional respect. He always entered alone in cells for dangerous criminals marked with stigmata on their faces, punished with scourging and sentenced to lifelong servitude in mines. He would stay for a long time with them in private, and there was not a single moment when even the least rude word would escape the lips of a hardened and good-for-nothing man against Fyodor Petrovich. And he sought to comply with their requests. Prisoners used to say about him, 'Haass has no otkaz (refusal)'.
Feodor Haass gave much energy to the Moscow Prison Castle, the Butyrskaya Prison today. He managed to achieve an improvement in the prison conditions and organized for prisoners a tailor's, shoemaking, joiner's and bookbinder's workshops.
In Sparrow Hills (Vorobyovy Gory), he arranged a prison hospital for 120 beds. He introduced nurses in men's wards, which was unheard of before. He himself visited each patient without fail.
Once Emperor Nicholas I visited the Butyrskaya Prison. It was reported to him that some prisoners feigned sickness and Haass covered up for them. Nicholas began reproaching the doctor and the latter kneeled down. The emperor said, 'Well, enough of this, Fyodor Petrovich, I forgive you'. And the doctor replied, 'I am not asking for myself but for the prisoners. Look, they are too old to serve their sentences. Set them free'. The emperor was moved so much that he released five prisoners.
Haass organized near the Butyrskaya Prison an asylum for children whose parents served sentences in it. At that time, a prisoner's wife and children often had to follow the convicted father to the exile. To alleviate their plight Haass arranged a house with cheap flats for prisoners' wives and a school for their children. He himself wrote and published textbooks for children.
Dr. Haass reached out not only to prisoners. He spent a considerable part of his time on ordinary sick people who needed his help and care. And in this he was no less selfless.
In 1844, at Haass' initiative and with the funds he raised in Moscow, a Police Hospital was opened in the city for treating all the destitute. It was popularly called "Haass' Hospital". Treated in it were the homeless, frostbitten, homeless children, unknown persons, those who were knocked off by carriages or victims of robbers. The hospital would get them on their feet and then help them find a job. Children were placed in orphanages, old people to alms-houses. The hospital was directed by Dr. Haass. He also lived in it for his last ten years, occupying two tiny rooms.
Haas lived very simply: he would get up at about six o'clock, drink a cup of currantextract and say a prayer. From half past seven to 8 or 9 o'clock, he received suffering people. Then he went to the transit prison on Sparrow Hills. At 12 o'clock he had a lunch of oat or buckwheat porridge and then set off for Butyrka. After that he would make a tour of his hospitals. In the evening, he went to the Ss Peter and Paul church, had dinner, again of oat or buckwheat porridge cooked on water without salt and sugar, and then came back to the hospital. He sometimes received patients till 11 o'clock in the evening. At about 1 o'clock a.m., Haass went to bed. And that was his routine day by day.
It is amazing how Haass managed to do all this in time. He drove in an old open carriage. Originally, he had a four-in-hand with acarriage, but with time he sold it together with his house, his picture gallery, as well as his cloth factory and country estate in order to distribute the money to prisoners and beggars. In his old age, Haass bought horses intended for slaughter at a horse market and slowly drove them, but when they could no longer move because of a sickness or old age, he let them spend the rest of their days free and bought again similarly worn ones to save them from slaughter.
In many tasks Haass was helped by Metropolitan Philaret (Drozdov) of Moscow. He interceded for Haass before the emperor and discharged many complaints leveled against him. St. Philaret was vice-president of the Moscow branch of the Prison Committee. Once, during its meeting, Haass began proving for the umpteenth time that some repeat offenders were not as guilty as presented by court. St. Philaret said, 'Why do you keep defending recidivists? No one is put in prison without guilt'. Haas replied, 'And what about Christ? You have forgotten about Christ!' Everybody was stunned. St. Philaret stood up and said, 'Fyodor Petrovich, at this moment it is not I who has forgotten about Christ, but it is Christ who abandoned me'. Since that day, a strong friendship was established between St. Philaret and Dr. Haass.
After Catholic Fyodor Haass died in 1853, the funeral service for him, with the blessing of Metropolitan Philaret, was held in an Orthodox church and he was buried at the German Cemetery in Lefortovo. The doctor proved to have no saving, so the funeral was organized at the expense of the police administration. Over 20 thousand people out of 170 thousand Moscow population came for his burial. A modest stone and a cross were put on the doctor's grave. With time, former prisoners braided the grave enclose with what they called Haass' fetters.
Dr. Haass' biographer, famous Russian lawyer A. F. Koni wrote, 'Fyodor Petrovich understood that the Christian ideal is not something to marvel at from afar. For him, this ideal was a beacon, a torch that illuminates one's life journey. Entirely dedicated to good works and charity, Fyodor Petrovich showed how one should walk along this path'. Haass infected people with his selflessness and enthusiasm; thanks to his efforts, many well-off citizens became benefactors.
In 2011, the Roman Catholic Archdiocese of Cologne began the canonical process of ranking Fyodor Haass among the blessed. And on January 9, 2016, during a solemn mass at the catholic cathedral in Moscow, the diocesan stage of the canonization process began for the Servant of God Friedrich Joseph (Fyodor Petrovich) Haass called 'the holy doctor of Moscow'.
In the history of the Christian Church, there are many outstanding examples of personal diakonia, which inspire other believers. Not every person is capable of such selflessness and such feats as Dr. Haass or the Holy Martyr Elizabeth performed. At the same time, we know that good works is a task of every Christian that has no alternative. And it is proper here to remember the words of Dr. Haass, 'Haste to do good! Do not be shy of a small size of help you can give in a particular case. Let it be expressed in giving a cup of fresh water, a friendly greeting, a word of consolation, sympathy, compassion - it is good enough…'
Liturgical Diaconia. Part 2
Dr Alexandros Papaderos
(Abridged)
Historical Testimony
We must first of all examine the history of our own Church and see how our forebears responded to the biblical commission to service in the course of the centuries.
In view of the cultural differences which exist, it is doubtful whether Orthodoxy itself is able today to offer a single common answer to modern social questions. The only thing we can say with safety is that the entire body of Orthodoxy is permeated and the Orthodox communion shaped and held together as a single unity of life and meaning, by one formative principle which constitutes a unifying factor.
Elsewhere I have described this formal principle as the liturgical principle [6]. I would like to retain this description here, convinced as I am that it expresses the quintessence of the Orthodox awareness of itself, of humanity and the world. I realize, of course, that when isolated from the total context such concepts can be misleading and even degenerate into mere clich?s and fashionable slogans (as e.g. with the terms "eucharist", "spirituality", pleroma, "doxology" and so on, and more recently with the term "conciliarity"). But I believe we can use this term "liturgical" to show why and in what sense every Christian diaconia to the world, to culture, to politics, to human beings, must be a liturgical diaconia.
By 'liturgy' I do not simply mean any specific cultic act but a definite life style which, while certainly rooted and focused in the Eucharistic liturgy, also embraces the whole life of the person. For Orthodox Christians, liturgy in this sense means 'bringing the heavenly into the earthly, in the way that John Chrysostom suggested when he heard the singing of the heavenly choirs and the harmonies of an eternal song in the very midst of the things of time' [7]. But at the same time liturgy is the elevation of the earthly into the heavenly places, the fulfilment of every immanent creaturely thlos (goal) and its transfiguration by grace. In this Eucharistic liturgy the destined sanctification of humanity and the cosmos, and therefore their consummation and fellowship with God (theosis), are realized through the self-offering of the incarnate Logos, in anticipation of the eschatological hope.
The main characteristic of liturgy, understood and experienced in this way, is its catholicity. By its very nature, the ecclesiological concept of catholicity is christological concept. When St. Ignatius says 'wheresoever Christ Jesus is, there is the Catholic Church' [8]. He is certainly referring to the hypostatic union of Christ with his Body the Church and to its unadulterated and intact pleroma.
Without entering into a discussion of this pleroma, I would like to formulate here the main thesis of this address:
In the context of the Church's liturgical understanding of humanity, world, society and history, any division between verticalism and horizontalism is not merely absurd but actually heretical!
It is just as absurd and heretical as the distinction (in the sense of divorce) between salvation history and world history, between the cross and resurrection, between the divine and human nature of Christ or of the Church, or between faith and works. It is high time we stopped playing the one off against the other! This is a game in which there are only losers!
One of the things for which we are most indebted to the church fathers, particularly to the Cappadocians, is the way in which they overcame these dualisms and established firm standing ground for us and for our dealing with earthly problems. Starting from the biblical theology of creation, from Christ's incarnation, death and resurrection, and on the basis of confidence in the 'new ktisis' ('new creation') and the metamorphosis of transfiguration of the cosmos by the power of the Spirit, they exorcised the demons from the ancient world picture with its distorted dualistic approach. This enabled them to wage a successful struggle against ancient philosophies of nature, against the Stoics and the Gnostics, and to equip us with spiritual weapons to enable us, too, to continue the struggle today against modern dualisms against deism, pantheism and materialism. This patristic view of the world and history was aptly summed up by Metropolitan Ignatios of Latakia at the Uppsala Assembly in his address on the main theme. He stressed that:
the structure of the world is dialogical in the proper theological sense of the Logos;
the structure of the world is also diabolic in the proper theological sense of the word;
the structure of history is Pascal, in the proper theological sense of the "passage" from this world to a new creation; and
the present structure of history is already a parousia-structure, in the proper theological sense of the Presence (parousia) of God-with-men [9].
How then can we possibly let ourselves be seduced by ancient and modern heresies, by succumbing for example to the dichotomies already mentioned and thereby asserting that the 'secular' is irrelevant to salvation, including in the term 'secular' such things as hunger and illiteracy, injustice and the absence of peace and freedom!
Are we to forget the fundamental trinitarian and christological decisions and therefore soteriological, social and ethical decisions - of the early ecumenical councils? Are we to be deceived by the dualism of the Nestorians (divorce between the divine and the human) or by the monism of the Monophysites (absorption of the human by the divine)? The Church, on the contrary, has firmly maintained the theandric nature of Christ and frequently testified that any divorce here would certainly end up in heresy, as certainly as would any confusion or change! In my view, this sense of catholicity and unity is of fundamental importance. For only as we have this sense of catholicity and unity will diaconia keep the whole human being in view of the midst of the totality of factors and conditions of our earthly existence and only by this sense of catholicity and unity can we preserve the necessary balance and correlation in our practical deployment of the ministries and charisms in the Christian community for the life and upbuilding of the Church and for the salvation of the world.
Microdimensional and Macrodimensional Diaconia
By microdimensional diaconia I mean all the concrete measures taken by the Church to remedy the concrete distress of individuals and groups by concrete means. I include here, above all the charitable institutions and organizations which, as is well known, the Church began very early to create in order to deal effectively with human needs of various kinds There is no need for me to describe these charitable activities in detail, but three points should be kept in mind in our discussions:
Firstly: most of these charitable institutions were established in the neighbourhood around the church as an extension of the sacred altar to include concrete human distress and, indeed, as something central to the life of the whole Christian community, since charitable work is also its task and not the sole responsibility (monopoly!) of the bishop or the clergy.
Secondly: the Church always showed remarkable flexibility, great freedom, alertness and inventiveness in abandoning old methods and patterns of charitable work and employing new ones depending on the needs and conditions at any given time.
Thirdly: the Church did not regard charitable activity as its own exclusive privilege or as a bone of contention and occasion of tension between itself and the State and society but on the contrary sought to encourage both State and society to assume their responsibilities for people in need; it was always the Church's concern to permeate with the spirit of mercy (eleos) the entire machinery of government and society (administration, legal system, legal practice, police and prison services, social organizations). This last concern of the Church, especially, constitutes part of the social activity which we have labelled 'microdimensional diaconia'. Certainly, the Church realized that, however vital and impressive its microdimensional diaconia might be and however clear a sign of the vigour of the Christian community, this service could never even approximately deal effectively with the social needs requiring to be met. Besides this, the Church had a much broader conception of its diaconal task right from the beginning; understanding it as a macrodimensional diaconia as well, and this in three directions:
as the development of a fellowship of solicarity;
as a mission with a diaconal dimension; and
as a commitment to social justice and liberation.
Development of a Fellowship of Solidarity
In the liturgical life the Christian experiences in a quite special way his or her personal participation in the koinonia of the Body of Christ (1 Cor. 12). He knows that he is called not to order his life around some 'law' or to carry our certain 'commandments' but rather to rise to a new way of living, in Christ: to be crucified with Christ (Gal. 2:19), to be raised up and made alive by Him (Eph. 2:6) to put on Christ like a garment (Gal. 3:27), to share as a child of God in the inheritance of God (Eph. 1:5; Rom. 8:15; Eph. 1:14; Eph. 1:18; Col. 3:24; 1 Pet. 1:4). He therefore knows he is incorporated into a worldwide fellowship.
From this liturgical sense of catholicity and unity have sprung the great currents which have permeated the whole earth, shaping cultures and establishing communities.
In the liturgy the Orthodox Christian learns, for example, that he or she does not stand in the presence of God as an individual, concerned only with his or her own justification (Augustinian-Reformation anguish of mind). On the contrary, he (she) stands as a person who exists in loving interpersonal communion with fellow human-beings and therefore with God, in harmony with the basic principle of Orthodox soteriology and social ethics which may be represented diagrammatically as follows: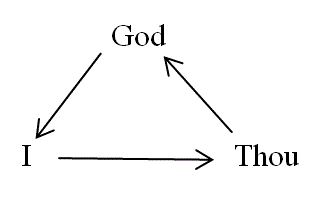 My movement in love towards my fellow-human 'Thou' is in fact possible because God has taken the initial movement in love towards me, a movement to which I can only respond via my neighbour (Mt. 5:23-24) [10].
'As I was reading the holy Gospel, I also came across the place where our Christ says that no Christian man or woman can care for him or herself alone or how he or she can be saved, but must also care for the brothers and sisters that they may not be damned' [11].
The spiritual room in which the individual also feels accepted and safe is neither the bliss or damnation of the individual but the transfiguration of the creation and the theosis of the whole humanity.
'We were all in Christ and the common prosopon (face) of humanity is raised again to live towards Him' [12].
This security in the Eucharistic koinonia of the universal fellowship of humanity has particularly profound consequences for social diaconia, when diaconia means far more than just the distribution of charity. From a purely empirical sociological analysis it is easy to show how wisely the Church adopted ancient forms and patterns of social life and filled them with new meaning or else created new structures (mostly with their source in liturgy) in order to meet various needs. Solidarity - the main characteristic of these structures - still remains intact to a large extent in the cities even today, despite the corrosive effects of the urbanization and rationalization of human life. Let me give a few points to illustrate this form of macro dimensional diaconia.
Suffering transfigured
Secure in the eucharistic fellowship of solidarity, there is no longer any need for the human being to bear suffering or joy in isolation and loneliness. As you know, the form of the liturgy preserves certain elements of ancient drama. But what was presented as inner longing and inner tension in the mystery cults is here revealed as the reality of the new creation, as the victory of the cross over death, as the expression of resurrection. A theology of illuminated suffering, expressed poetry, music and architecture symbolizing the economy of salvation, helps the Christian to find a deeper meaning in his own suffering and humbly and confidently to bear both personal and collective suffering in the light of the cross, resurrection and eschatological hope.
Here you experience the great compassion of Christ and of God 'who became what you were that you might become what you were not' [13]. Here we see Christ 'crowned with glory and honour because of the death he suffered' (Heb. 2:9), sharing our 'flesh and blood', destroying the devil who had the power over death (Heb. 2:14), setting free all those who were slaves throughout their lives because they were afraid of death (Heb. 2:15), as their faithful and merciful High Priest in his service to God (Heb. 2:17), as the 'great artist of suffering', as Chrysostom calls him [14]. For the Christian community, therefore, the path of suffering martyrium of Christ and his saints remains the permanent sign of the unlimited solidarity of God with his people all their pain and distress and his gift to them of his Spirit whom we experience above all as the great Comforter (Paraclete). Without this confidence, it would be almost impossible to explain the endurance and patience of most, indeed of all, Orthodox peoples in face of the often cruel calamities which have marked their several histories.
With the security of the same fellowship of solidarity, Christians learn as brothers and sisters to bear each other's burdens (Gal. 6:2). Above all here the strong learn to bear the infirmities of the weak (Rom. 15:1). For Christians live on the basis of their acceptance by Christ and must also themselves live by the acceptance of others (Rom. 15:1) , without distinction, without restriction and unconditionally, so that the Gentiles may learn to praise God for his mercy (Rom. 15:9). Thanks to this new ethos, as is well known, a rich variety of forms of voluntary solidarity and mutual aid have been developed for the relief of distress in all sorts of situations, and not only distress of a material kind: 'The primary eleemosyne is zealously to rebuke the brethren' [15].
What institution would ever have been able to shoulder spiritual or material needs or needs of any kind, had not the Spirit of mercy (eleos)produced this fellowship of solidarity and the security it affords!
But important as the diaconia in suffering is, the diaconia in human joys is just as important (1 Cor. 12:26; Rom. 12:15; 13:6). It is perhaps easier for a human being to bear suffering alone than to rejoice alone! Within the fellowship of solidarity, however, no one need to be shut up alone in a private sphere. Indeed it is impossible for anyone to do so, since the personal is also at the same time the supra-personal fellowship.
In this connection it should be emphasized very strongly that, particularly in the spiritual breathing space of the eucharistic fe1lo.rs11ip, the sense of festival in the setting of so many feast says (saints' days) and liturgical ceremonies has filled human life a wealth of joy and happiness. In the atmosphere of liturgical festival, personal
relations are deepened, tensions resolved, conflicts settled, peace established, forgiveness practiced. Here, above all, people experience that distinctive tranquility and inner happiness which is poles apart from the inebriation procured by the modern pleasure industry. Particularly in face of the human quest for happiness and joy (silent families glued to the TV screen, leasure occupations and tourism, drugs, sexism, materialism and consumerism) we are all the more sharply aware of the need for a diaconia of joy in the context of real Eucharistic koinonia.
In the atmosphere created by this coenobitic (koino-biotic) spirit of Orthodoxy we also become acquainted with a wide and varied range of impulses which permeate, cement and fructify the whole of life, both private and public. Think, for example, of the sanctification and deepening of the 'natural' orders such as kinship by means of the sacraments of marriage and baptism (including spiritual kinship in the shape of marriage witnesses, baptismal sponsors) leading to an extension of personal communication and solidarity which is also of importance from a sociological standpoint. Think also of how the ancient Church, and even monasticism, promoted a rich variety of forms and patterns of solidarity and even created them, whereby social as well as purely economic concerns could be satisfied in brotherly mutuality, often in surprisingly modern ways. In the Byzantine and post-Byzantine period (Turkish occupation), our people developed this coenoitic (koino-biotic)tradition further with remarkable success. Think finally of how even the modern cooperatives, so important for economic and social development generally, in many places originated and found their inspiration and creative power in precisely this coenobitic spirit and can still find it today as a number of contemporary examples here in Crete can demonstrate [16].
All these affirmations add up to this: Christian diaconia can never be limited exclusively to institutionalized welfare work, the distribution of charity and the care of the individual. In this merciless world of selfishness, hostility and universal strife, the task of Christian diaconia - in the sense of macrodimensional diaconia - is rather to bear witness to the mercy of God (eleos), to develop structures of fellowship in solidarity and to seek to illuminate the darkness of human attitudes and social cultures (of justice, economy, labour, etc.) with the glimmer of Christian love and hope. Not with any idea of transforming this earth into a paradise but in order to prevent it from turning into a human from turning into a human hell.
To be continued
Notes
Alexandros Papaderos, 'Das liturgishe Selbst- und Weltbewusstsein des byzantinischen Menschen', in KYRIOS IV (1964), pp. 206-218.
N. Louvaris, 'Die Kirche Griechenlands und die Wirklichkeit der Welt', in UNIVERSITAS, Ser. 16 (March 1961), No. 3, p. 235.
Ep. ad Smyrn. 8, 2.
Metropolitan Ignatios Hazim of Lattakia, The Uppsala Report (ed. Goodall), WCC Geneva 1968, pp. 293 ff. Here p. 297.
A. Papaderos, METAKENOSIS. Griechenlands kulturelle Herausforderung durch die Aufklarung in der Sicht des Korais und des Oikonomos, Meisenheim am Glam 1970, p. 14 ff.
St. Kosmas of Aetolia, 1714-1797, 1 Didache, in M. Giolia, Ho Kosmas Aetolos kai he epoche tou, Athens 1972, p. 332 (in Greek).
St. Cyril of Alexandria, comm. on Jn. 1:14, PG 73, 161.
St. John Chrysostomos, Hom. 3.2 on Ps. 50.
St. John Chrysostomos, Hom. 17.3 on Mt.
Homil. Clement. 3.68.
A. Papaderos, 'Orthodoxy and Economy: A Dialog with Alfred Muller-Armack', in SOCIAL COMPASS, XXII, 1975/1, pp. 33-66. The same article appears in a Greek translation as Orthodoxia kai Oikonomia: Dialogos me ton Alfred Muller-Armack, Thessalonica 1975.

Top of the page
---