---
How to cut 'difficult' toenails and keep foot skin healthy
Distorted thickened toenails affected by fungus are difficult to cut, the more so to do it quickly. Usually, it is suggested that you should preliminarily soften the nails by ways requiring several hours and then to process them.
For those who have no time but need to shorten the 'difficult' nails quickly, the experience of nurses suggests the following.
For the safety of nursing personnel, it is necessary to do the procedure in gloves.
It would be better to wash the feet before cutting.
To cut the nails especially on toes do not use a pedicure plier but an oblique cutting plier for electric wires with tangsten-carbide sputtering, that is, an electrician's instrument. Unfortunately, such a plier is not available everywhere but still can be found. It costs two times a good pedicure plier. But it's worth it. It is very sharp and does not need sharpening, while the tungsten-carbide sputtering prevents it from rusting, that is, this instrument can be disinfected without fear of damaging it.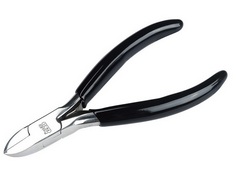 After cutting it is necessary to polish the edge of a nail with a pedicure file. But a fungus can be brought from one nail over to another. So, what to do? There is a way out. High-quality sandpaper No. 240 (men call it 'zeroer') will well cope with this tasks. A sheet of this paper costs only 18 roubles as of the end of 2016. It should be cut in pieces 2 x 1 cm. There will be many of them, so they will last for the long haul, each piece for one nail. This way, each nail will be polished separately and there will be no risk of carrying the fungus from one nail to another. In addition, there will be no need for disinfection.
The feet skin usually has a large layer of keratinizing tissue. Ten minutes before washing feet, it is necessary to oil it thickly, using cosmetic oil or, if there is no such oil, a food vegetable oil will do. After the washing, use a piece of bandage to rub off the softened tissue (gauze bandage has a crumbly rubbing surface). Do not forget about the skin between the toes and under them. Then cut the nails. And in conclusion do not forget to dub the skin and toes with a nourishing cr?me.
If the keratinized tissue on your heels is too thick, it is necessary to use the same sandpaper before washing, only its piece should not be 2x1 but a little larger. Just polish the heel with the sandpaper No. 240 and that's all.
So, let us sum it up. If we wish to carry out a full complex of procedures for care of our feet and to do it quickly, then:
polish your heels with sandpapers;
oil the feet;
wash the feet with a soap;
rub off the keratinized tissue with a piece of gauze bandage;
cut off the nails using a plier with tangsten-carbide sputtering;
polish the nails with sandpaper;
dub the feet with a nourishing cr?me.
If you plan to cure a toe fungus, follow the recommendations of a dermatologist.
Put this information in a box of secrets of quick and good care.
I wish you success!
Tatiana Kravchenko
Nursing teacher
St. Dimitry Nursing School

Top of the page
---