Spiritual-moral and psychological-pedagogical support of the family - new form of the Church's social service
Several years ago the population problem in our country was described as 'the most acute problem of today's Russia', while the demographic situation as critical. Today there are public councils and commissions on demography set up and working actively throughout the country, especially in the Central Federal Okrug (CFO). In the period from 2007-2009 the Russian government has made a whole number of concrete decisions to promote the birth rate and decrease the child mortality. Among these decisions are various benefits and payments to increase the number of children in families, steps to improve healthcare for expectant mothers and women in childbirth and to create favourable conditions for nursing unhealthy, weak and disabled children and children in orphanages.
All these measures will certainly alleviate the population crisis in Russia but they do not solve all the problems of recouping the population.
Our country has suffered great losses owing to the fact that newly-born children do not receive due attention, care and correct upbringing from their parents. As a result of their spiritual, moral, psychological and pedagogical ignorance, parents cannot and sometimes do not even want to establish benevolent, friendly and loving relations with their children. Harsh punishment, emotional rejection, violence and aggression used by parents against their children cripple children's souls, impede their moral and psychic development, destroy children's cognitive activity, lead to mental illnesses and suicides, push children towards crime and social vices and make them 'orphans with living parents'.
The Russian Orthodox Church (ROC) has raised its voice in the defence of Christian family values. His Holiness Patriarch Kirill of Moscow and All Russia has repeatedly met with young people to explain to them the need for 'creating the spiritual personality, sound family and strong state'. The ROC seeks today to join efforts with public institutions participating in the implementation of Presidential social projects aimed to support family, motherhood and childhood. In this connection, an urgent need arises to study the relationship between the problems of modern family and those of forming the human personality and identifying the conditions which promote their spiritual-moral and social-psychological improvement.
It is necessary to develop the purposeful work for introducing people in our country to the Christian culture of family and family relations, which helps to form the full-fledged and spiritually healthy human personality. What is needed for this work is a program of creative activity aimed to achieve a spiritual improvement of both the family and individual through imparting to people Christian family values and traditions.
The initiative to develop this creative program has been assumed by the Semeinoye Blago (the Benefit of Family) Psychological Service, an autonomous non-commercial organization, which has entitled its program 'The Spiritual Health of the Family and the Individual'. It was presented for discussion to a reflection-action conference, which took place in November 2008 in Moscow, with the blessing of His Holiness Patriarch Alexy II of Moscow and All Russia.
The principal thesis of the Program:
As a long-term public program for overcoming the population crisis is developed, state and church non-commercial and public organizations should join efforts in support of the family, motherhood and childhood today.
Since it is only a spiritually healthy family that can raise a spiritually healthy personality it is necessary for the state to show continued concern for raising the level of the spiritual-moral culture of inter-family relations, people's awareness of their responsibility for saving their marriages and for mutual marital fidelity and people's correct understanding of the tasks of children's education.
The level of the spiritual and moral maturity of both adults and children can be successfully raised by institutions of culture, social protection, education and healthcare, by clubs and public associations through developing and introducing comprehensive development programs covering various aspects of human life and work in the modern society.
It is necessary to set up in the CFO regions major social and psychological-pedagogical services whose task will be to develop comprehensive development programs aimed to improve the spiritual and moral health of family and individual, to exchange experience and to carry out interdepartmental coordination of efforts of partner organizations.
In schools and universities, clubs and associations it is necessary to organize systematic work with young people with the aim to impart to them Christian family values and to encourage them to enter into legal marriages and bear children. This work should be based on cooperation and exchange of experience between church, state and public organizations.
The aims of the Program
to develop a model of working cooperation between church and state structures, business communities, non-commercial and public organizations engaged in support for family, motherhood and childhood with the aim to make them healthier;
to organize in the CFO regions an effective system of spiritual and moral strengthening of today's family, a system of social, psychological and pedagogical aid to those who have problems in establishing interpersonal relations and in raising their children;
to assert the great social significance of the prevention approach to the strengthening of family and education of children and youth;
to determine new requirements to higher education institutions for training qualified specialists in social work and psychological and pedagogical aid to today's family, taking into account the need for its spiritual and moral consolidation;
The innovative program Spiritual Health of the Family and Individual helps to identify the main point in which available resources and means should be applied. We believe family to be the principal link through which relations are established between the individual and society. Therefore, our primary task is the spiritual and moral strengthening of family and professional psychological and pedagogical aid for those who have problems in marital and child-parent relationships. Indeed, it is only in the situation of a spiritually healthy family (I. A. Ilyin) that people can adopt the Christian attitude to marital life and bearing and raising children. It is only in a spiritually healthy family that the individuality of children, teenagers and young people entering into independent life in today's Russian society can be formed and truly manifested.
We believe the key to solving the population problem should be sought in creating an effective system of psychological, pedagogical and social support for today's family aimed to develop Christian family values. The creation of this system will help people adopt the right spiritual guidelines in solving complicated family and life problems arising before them today. From our perspective, it is only this spiritual pivot that will preserve the integrity of family and the mental health of the individual in every situation that may arise in their life.
The Semeinoye Blago Orthodox specialists assume that the family support system should be should be organized on the following levels (see the table):
Pastoral-theological;
Socio-cultural and anthropological-pedagogical;
Practical life and work.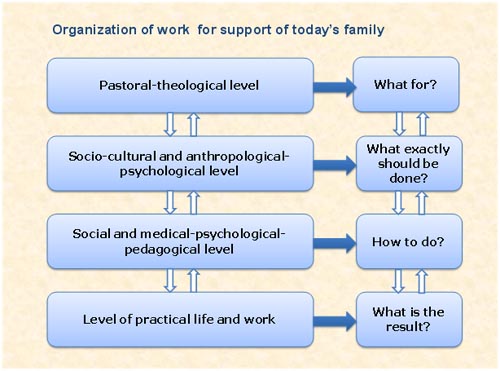 Pastoral-theological level defines the aims, meanings and values of family life. It helps a person to decide for the sake of what he or she enters a legal marriage, settles down for married life, bears and raises children. A great deal of tasks is to be fulfilled by clergy here. They should seek to generate in people the ideal of a spiritually healthy family. The modern individual needs such spiritual literature, sermon and pastoral edification as to help him or her appreciate the fullness, beauty and joy of Christian family life. The spiritual and moral education of people based on studies of Holy Scriptures and the Holy Tradition, God's laws and commandments concerning the purity and chastity of marital relations, the spiritual equality of man and woman before God, their distinct vocations as husband and wife, father and mother, etc. should be linked with today's life. It is very important that people should be given more concrete notions of family as a minor home Church, matrimony as a mystery of sacrificial Christian love, childbirth as a gift of God opening for parents an additional chance for salvation through their child's education.
As the modern individual, unfortunately, has little understanding of religious and theological literature, works of Church Fathers or notions and symbols used in worship services, he needs an interpretation and explanation of the church notions that determine his everyday life in family.
Socio-cultural and anthropological-psychological level helps people learn the Christian culture of family and family relations, which is formed through the establishment and voluntary observance of the husband-wife-children hierarchy of roles. This level of the organization of work to support today's family answers the question about the substance of a spiritually healthy family's life, about what makes it integral and stable. This level can be elaborated by scholars of humanities - philosophers, historians, psychologists, sociologists and science methodologists capable of making a profound analysis of crises in family life and identifying abnormalities of parental love and distortions of man's and woman's mission. Comparing these facts to God's design for the human being as his highest creation and for family as a voluntary union of man and woman based on selfless love, scholars in humanities should elaborate basic principles of transforming today's family into a spiritually healthy family. In this connection, it appears necessary to continue developing a Christian anthropology so that the right theological interpretations may be given to the human being as the image and likeness of God, the three-part constitution of the human being and the powers of the human soul. Of tremendous importance here is a closer anthropological and psychological look into the notions of selfless Christian love and the feat of family life, without which a family cannot exist as wholeness.
The social and medical-psychological-pedagogical level defines concrete ways of professional support for family, necessary to preserve its integrity and stability, to establish friendly and confidential relations between spouses and parents and children depending on their family situation. This level of work helps to answer the question of how relations should be built in a family considering its membership and vital tasks.
This level of organizing work for support of today's family presupposes consultative, spiritual-moral, medical-psychological, psychological correctional and psycho-therapeutic aid helping to overcome conflicts in marital relations, solve problems of a child's age mental development and restoration of relations of mutual understanding and trust in a family.
The level of practical life and work is intended to accumulate, generalize and hand down the positive experience people have gained in building their family as really strong and healthy spiritually and morally. This level answers the question of what positive result can be drawn from efforts exerted for the support of today's family. Various parents' meetings, seminars, family clubs involving fathers and mothers in their work, in discussions on difficult questions of everyday life, possible ways of solving household problems and on parenting will help considerably enhance people's activity in general and their spiritual and psychological responsibility for the education of the younger generation, in particular. Tea parties, children's and family festivals, hobby clubs and art studios, hiking, excursions and pilgrimages, family sports competitions - all this provides an opportunity not only for interesting leisure-time together but also for a new experience of fellowship, cooperation and sharing. Various parents' initiative can be put forward and realized locally, regionally and nationally.
These levels of organizing work in support of family, motherhood and childhood show how important it is to engage professional psychologists and pedagogues guided by the desire to introduce people to the spiritual tradition of the ROC. Because of the need for a comprehensive approach to professional and educational tasks, specialists should be duly trained for their work. Here are professional qualities required of an Orthodox psychologist:
Belief in the existence of the image of God, i.e. the spiritual principle determining in any individual the moral context of his or her vital activity;
Adoption of a special methodological position whereby a psychologist no longer simply states problems or points to the vital mistakes made by his clients but becomes a compassionate interlocutor in whose presence and with whose help people turning to him for help can overcome their crises and develop a new, positive program for their life;
Mastery of T. A. Florenskaya's method of spiritually orientated dialogue through which a person's spiritual potential is awakened, positive vital mood is formed and moral position is adopted as a master of his own destiny responsible for himself and his family;
Skills to construct a spiritual and moral developing atmosphere which helps people adopt Christian family values and build benevolent interpersonal, marital and child-parent, relations.
Reflecting in his time on the tasks of Orthodox psychology and training specialists, Archpriest Boris Nichiporov wrote: 'A practicing psychologist, a theoretical psychologist and an experimentalist psychologist - they all, when starting to deal with a person, should cultivate in themselves a feeling which has been so far utterly alien to most of our honourable scientific folks. It is the feeling of reverence. Reverence before the human being is not a sentimental feeling. Every human being, even the meanest one, is the owner of a great treasure, which is the image of God indestructible in principle'.
Therefore, an Orthodox counselling psychologist and an Orthodox educator awaken the spiritual ego of a human being and help him adopt Christian family values and life goals. Thanks to this, a person can rethink his life and begin the purposeful spiritual and moral building of his personality and his family as a minor home Church.
Is there today a practical experience of building a system of support for today's family organized on several levels at the same time? Yes, there is. It is noteworthy that the level approach has been developed on the basis of a practical experience gain in long-standing work and cooperation by several organizations: the Life-giving Source Orthodox center at Tsaritsyno in Moscow, the Tsaritsyno Comprehensive Center of Social Service and the Semeinoye Blago psychological service.
The Semeinoye Blago team includes workers of the Tsaritsyno Comprehensive Center of Social Service and a number of specialists from other institutions - university graduates in psychology who have theological competence and a personal experience of spiritual life. Based in the Tsaritsyno Center, this team is engaged in everyday practical work with socially unprotected people, such as pensioners, large families and families with disabled children. It is important that all the forms of work they use including individual and family counselling, parents' seminars, trainings for teenagers, group correctional therapeutic exercises, comprehensive developing programs and leisure activities - all are aimed to help people attain spiritual and moral maturity, build a family and adopt the responsible, truly Christian approach to marital relations and to bearing and raising children. For its three years, some 1500 people have consulted the Semeinoye Blago psychological service. Many people have repeatedly turned to the service for a long-term psychotherapeutic help and support. In most cases, individual hours have tended to grow into family consultations with the participation of children, teenagers, parents, grandmothers and grandfathers.
Orthodox specialists of the Tsaritsyno Center have held annual seminars for parents to examine causes of conflicts in marital and child-parent relations and to give spiritual-moral and psychological-pedagogical recommendations for building united families. All the seminars are recorded on CD-disks in the mp3 format and distributed to bookstores and shops at churches and monasteries.
During the years 2008 and 2009, the Semeinoye Blago psychological counsellors were repeatedly invited by the Diocesan Center of Orthodox Culture to conduct field seminars for psychologists, pedagogues and social workers in Ryazan. During these seminars, there were meetings and talks with clergy, school psychologists and administrators of schools, orphanages and leisure centers engaged in support for family in Ryazan. They shared their experience of work and methodological approaches, which were appreciated and adopted by their colleagues in Ryazan. In addition, it was agreed to develop professional contacts and to introduce the innovative program 'Spiritual Health of the Family and Individual' in 2010 in the territory of the Ryazan diocese.
In early 2008, this program was supported by Moscow's Southern District department for social protection of the population and recognized as an innovative social project of practical significance in the state system of social protection. In September 2009, a seminar was held for psychologist, pedagogues and social workers engaged in social service in the Southern District of Moscow. In October 2009, the work of the Orthodox specialists of the Semeinoye Blago service will be presented to a round-table conference on innovative social projects in the Moscow social protection system. Among those invited to the conference are staffers of the Moscow department for the social protection of the population, leaders of the Southern District social protection department, as well as clergy of the Church of Our Lady the Life-giving Source and representatives of the Moscow Patriarchate.
In June 2008, the Spiritual Health of the Family and Individual program was approved by the Central District of Moscow's commission for regional development, local self-government and entrepreneurship and included in the District's list of long-term programs of social development for the period from 2008-2012.
What exactly makes the Spiritual Health of the Family and Individual innovative and topical? Seen from the church perspective, the Program organized by Orthodox specialists to provide psychological aid to families represents a new form of social and missionary service to people. Until now the social service of the Russian Orthodox Church involved those who for various reasons fell out of active participation in the life of society, such as alcoholics, drug-addicts, the homeless. Psychological aid to today's family makes it possible to give aid to people at a moment when they have not yet lost themselves, their family, their human dignity and active participation in social life. To support them at a time when support is still possible is to save society from the development of dangerous social tendencies and vices.
Seen from the perspective of the state social protection system, the Program asserts a new, more humane view of the person, in which he is perceived as a spiritually developing personality capable of arranging 'a spiritually sensible home' (I. Ilyin), not an average unit intended for statistical reports. The comprehensive system of support for today's family, which is developed now, opens up an opportunity for combining the prevention of crises in the life of families and individuals with the rehabilitation of those who found themselves caught in the social risk zone. At the same time, the Program helps people to develop an idea of 'social protection of the population' as not only distribution of clothing and equipment, foodstuffs and money. Indeed, Holy Scriptures says, 'Man does not live on bread alone' (Mt. 4:4).
From the point of view of social significance, Semeinoye Blago's program creates an opportunity for awakening people's creative energy so that they could themselves make their family a one whole, bear and raise children, taking care of their spiritual and moral growth as personalities and encouraging them to adopt Christian family values. The purposeful creation of a developing spiritual-moral, psychological-pedagogical and psychotherapeutic environment opens up a way for the formation of healthy interpersonal relations enabling people to give aid and friendly support to one another. The handbooks and techniques developed by the Semeinoye Blago Service can be distributed to various regions of the Central Federal Okrug for the benefit of Russian society.
Introduced to Christian family values in resolving complicated family conflicts and differences, our people will have additional opportunities for being initiated to the Church in a conscious way and to adopt truly Christian way of life.
I. N. Moshkova, Doctor of Psychology
General Director
Semeinoye Blago Psychological Service
Director of the Family Sunday School
Parish of Our Lady the Life-giving Source
Tsaritsyno, Moscow

Top of the page
---